这个作业是为每个讲座写一份执行摘要的论文代写
CF968: Industry Expert Lectures
This assignment consists of two parts.
Part I: Executive summaries (worth 30%)
You are asked to select three of the lectures of the module and write an executive summary on each of them. A single executive summary must contain 500 words max.
The summaries will be assessed using the following marking scheme, as a rough guideline.
 0-9% Something submitted, but it is incomprehensible; there is some effort
 10-19% Report difficult to read, student confused, but good effort shown
 20-29% Report difficult to read but readable, student slightly confused, but good effort shown
 30-39% Poor presentation, student confused, but report makes some sense; good effort shown
 40-49% Presentation may be weak, student may be confused, but good effort; report captures some of the key points in the lecture
 50-59% Weak report, but covers some of the key points, albeit plain and disorganised; weak English tolerated
 60-69% Good effort, most key points summarised, report is organized; flaws tolerated
 70-79% this is a distinction mark. A distinction summary must satisfy the following
o The presentation must look professional; it must be readable, and spell checked.
Something special must be present. For example, the author has summarised all the key points in the lecture (which shows good understanding and the ability to drop irrelevant things), provided meaningful interpretation on the topic, intelligently selected material to prune and include, or organised the speaker's ideas to make it easy to read.
 80-89% Something more special, e.g. insightful interpretations are provided
 90-100% Professional summary, easy to read, main points summarised, insightful interpretations
Note: 50% is pass mark for postgraduate modules. A summary would fail if it is poorly presented, or the report is incomprehensible.
Part II: Essay (worth 70%)
Your task is to conduct an in-depth research on one of the topics covered in one of the lectures, not necessarily included in the three selected for part I, and report your findings in a 3,000 word essay.
A good piece of research should clearly state what it is about, what literature it is based on and what your conclusions are. Your conclusions must be based on your analysis, which must be clearly presented. Think what a reader could take away after reading your research.
A good thinking process for this part of the assignment is the following.
 Choose a topic from the expert lectures that most interests you.
 Decide what you want to research in. For example, "how is blockchain going to change banking?" or "how to build a risk model?"
 Apart from material from the lecture, you may base your research on web resources,magazines, newspapers, technical papers, books, etc.
 Construct meaningful statements to summarise what you have read from your sources. These statements form your analysis.
 Draw conclusions from your analysis. Defend your conclusions rigorously.
 Present your analysis clearly.
The marking of the essay will attend factors such as its contents, clarity and readability, explanations,use of references, convincing arguments/analysis and insights. Do not lose marks on spelling, spacing,format!
Deliverables
The submission of the assignment must be done through Faser in a zip file, including
 the three executive summaries in three different files (in PDF format) named with your name followed by the expert name, e.g., KanellopoulosOlsen.pdf;
 the essay (in PDF format).
Please refer to the Student's handbook on the Departmental Policy on Plagiarism and Late Submission.
---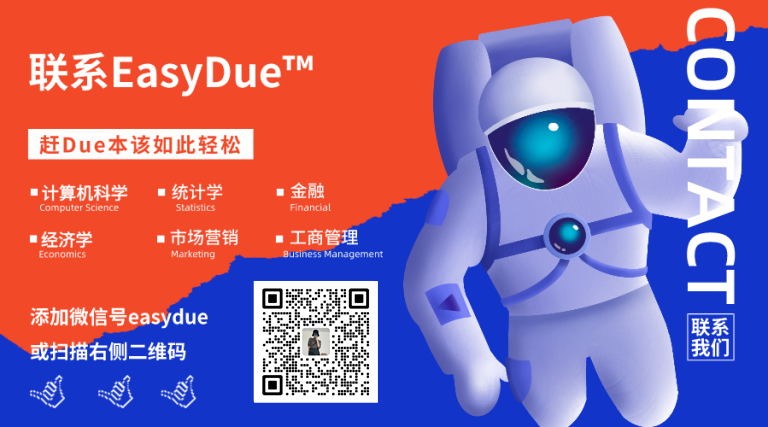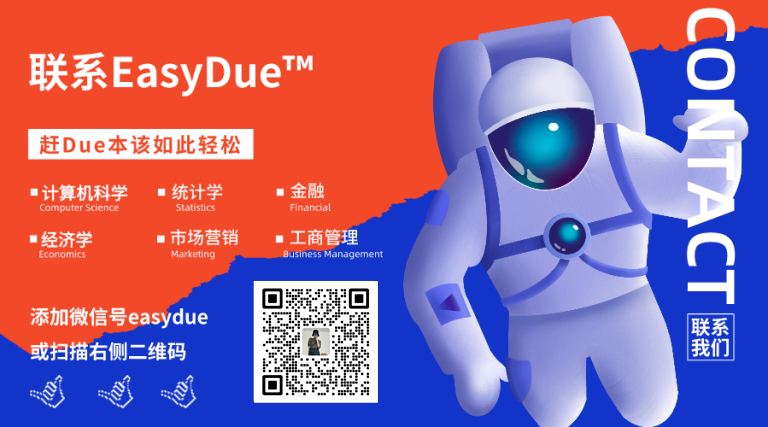 EasyDue™ 支持PayPal, AliPay, WechatPay, Taobao等各种付款方式!
E-mail: easydue@outlook.com  微信:easydue
---
EasyDue™是一个服务全球中国留学生的专业代写公司
专注提供稳定可靠的北美、澳洲、英国代写服务
专注提供CS、统计、金融、经济、数学等覆盖100+专业的作业代写服务